Top 20 activities for an unforgettable trip
Las Palmas is the capital of Gran Canaria. It's a big city with PLENTY to offer. With its nearly 380,000 population and hundreds of backpackers, you'll definitely find a friend or two.
I arrived in LP for the first time at the end of August 2017 to start the last internship for my Bachelor degree. I spent six wonderful months there while I was completing the final steps of my education. I met a ton of amazing worldly people and party animals! I made great friends who I still keep in contact with, I met a soulmate and I fell in love, I got 2nd-degree burns and morphine, I partied hard, I hiked throughout the island, I went on a two full day road trip, I learnt a bit of Spanish and a lot about physiotherapy AND all while working and completing my educational tasks. IT HAS BEEN TRULY AMAZING! I passionately advise you to go to Las Palmas if the Canary Islands are on your list!
The order which I'm using for the activities is not related to their importance. So let's start with the list.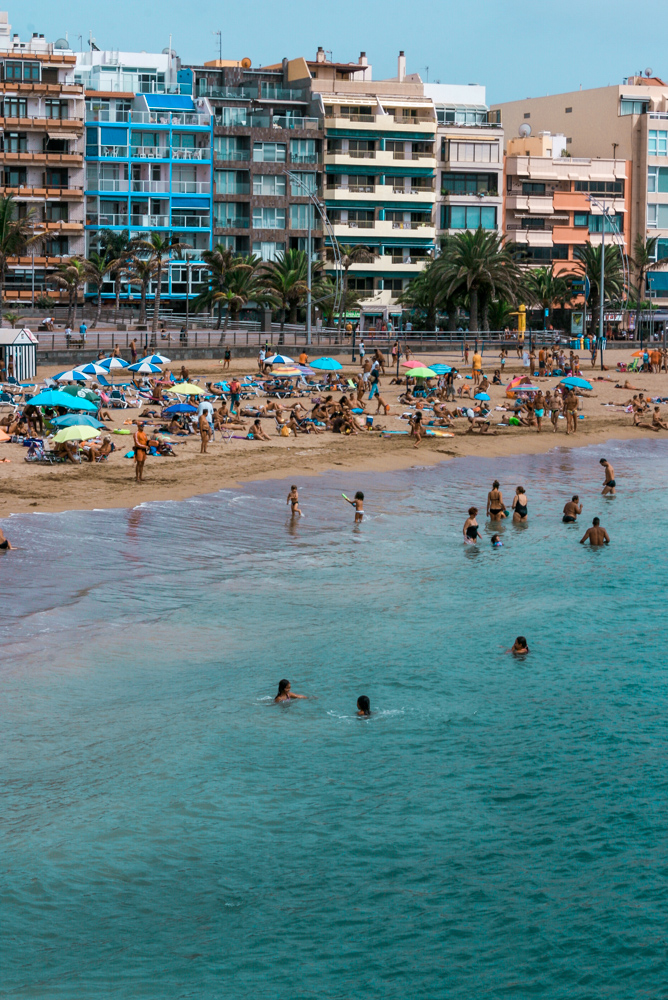 Obviously, in a city like this, you'd like to spend most of your time laying around on the beach and enjoying the waves and sun which are on offer almost every day! But really, WALK DOWN Las Canteras. On one side you'll see ocean views together with GC's hills and the Teide volcano of Tenerife (on clear days). On the other side of the avenue, you can check out one of the many tiny tapa places, refresh yourself with a cold beer and grab a delicious snack to gain some energy for the rest of your walk. My advice is to start down from La Cicer (the surfer's beach) and continue all the way down to El Confital, which is a small rocky beach (also good for surfing) at the north bottom of La Isleta. If you don't wanna spare your day in walking, but rather prefer to enjoy the ocean, you could take a walk after it gets dark. The paseo is full of life and street artists on Friday and Saturday nights. It's totally worth checking out!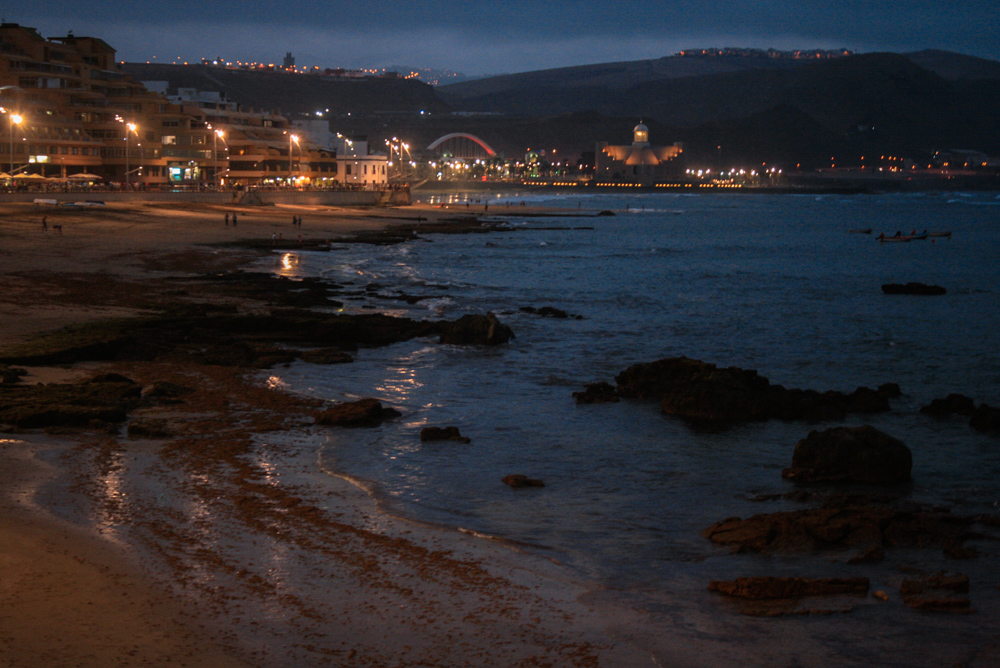 While you are in Las Palmas, make sure to check out the old town and its neighbourhoods Triana and Vegueta. It is sooo pretty! It's on the other side of town, so it's preferable that you take a bus to San Telmo bus station or better rent a bike and enjoy the breeze and the sun while you bike with the ocean on your side.
Don't do the same like me and leave your camera battery on charge at home! Take pictures of the pretty corners, walk down the narrow streets, explore different architectural styles and old cathedrals or just have a caña at the terrace of one of the quiet cafes. 
I've never bought anything there (just because I don't shop in general), but if you are a fan of shopping – definitely visit the Market square and Calle Mayor de Triana!
Highlights of your visit in the old town may be the Cathedral of Santa Ana, Museo Canario, Casa Colon (see below) and definitely the old town hills!
The hills are full of small houses, brightly painted in all different colours. Once you look at them from far away you feel like you are on a beach in Curacao, instead of the Canary Islands!
EXTRA TIP: Start your day with the best cappuccino in town at antico caffe, which is owned by a true Italian. Enjoy the wonderful selection of ice creams, cupcakes and sweet deserts. Make that morning count!
3. SATURDAY NIGHT OUTDOOR CONCERTS
As long as are not staying only for a few days during the week, I'd definitely recommend checking out the Saturday night outdoor concerts. 
This event is called "Playa Viva".These are a number of concerts, which begin around 5pm every Saturday in front of the "La Guarida". Each concert has a different band performing (and different music genres) so there is a little bit of everything. The band plays for about an hour, after which the public moves to the "Churruca" square. Add another hour and move to "NY TAXI Bar", then "Plaza del Pilar" and "Mumbai Sunset" after that. 
The last concert takes place at "Plaza de la Musica", where the good guys "Mojo" and "Nasdaq" clubs keep open after the concerts finish so you can continue with your session non-interrupted.
There are two concerts I know about on a Friday night (there's probably more). 
One takes place at Plaza Farray on Fernando Guanarteme and it begins around 9PM. 
Another one is in front of NY TAXI Bar (the one at La Puntilla), normally begins between 8/8:30PM.
Enjoy the live music and afterwards you may wanna hit the nearby clubs. Be careful of the tequila! – speaking of experience. Meet plenty of friendly people and follow the crowd to the rest of the bars.
5. TUESDAY LANGUAGE EXCHANGE MEETINGS
Would you like to improve your Spanish? Or maybe another language? Or maybe just have a beer with some good people? 
Couchsurfing has got your back. There is a weekly Tuesday meeting in the Lux Pub, located on Fernando Guanarteme. It's a wonderful exchange between locals and foreigners! People start gathering between 7PM-8PM, and usually work the next day, so try not to be very late!
6. WTF TO DO ON A QUIET WEDNESDAY NIGHT?
We all know mid-week days can sometimes be a bummer. If you don't feel like staying at home watching Netflix and stuffing yourself with pizza you could check out the Aloha Tiki Bar. 
A wonderful person came up with the idea to bring foreigners together, exchange stories and experience. It's a bit warm, and music stops early because of shitty neighbours but some of my good friends I've met exactly there. 
Go for a beer, pick a few people and then hit the clubs! Wednesday is also notorious for the Erasmus students so you'll definitely meet a few wild souls up for a good time!
If you go high enough – any point is a view point, really. Either on the hills in the old town, La Isleta or on the terrace of a tall building, you'll always enjoy the views. However, if you don't feel like just wandering around, go to Mirador de Cuatro Cañones, or Mirador de Schamann, where you'll have a view towards the city, Vegueta, La Isleta and the busy port. Another place really good place is Mirador de Las Torres. It is common for lovers to go there and enjoy "the night view".
The photo is taken at a place where a local brought me, unfortunately I don't know the name of the place.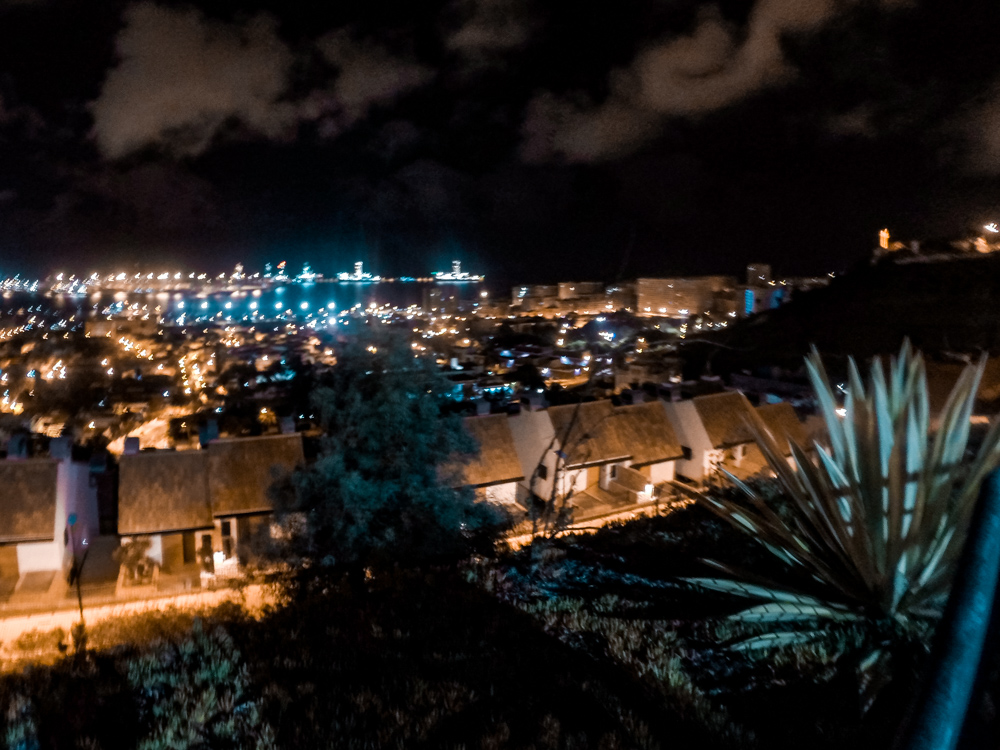 Sounds weird, doesn't it? When you read hiking, you imagined forests and mountain ranges, hopefully ending with a wonderful panorama.
Well I got two out of three for this one! Hike towards the top of La Isleta, to a place called Cuevas de los Canarios, where you can see plenty of small caves which the native Guanches made and used hundreds of years ago.
Just a little bit higher than the caves, you'll see a massive Christian cross, and if you decide take your hike a bit further, you won't regret the view towards the city and the Atlantic ocean lining the island on both sides.
9. EAT ICE CREAM AT LA PEQUENA VIEJA
Ok, in ANY to-do list there needs to be a point highlighting the necessity of eating a good ice cream.
La Pequena Vieja is a wonderful little local ice cream shop, located on Las Canteras. They offer a variety of delicious home-made ice creams. You can find anything from refreshing fruity flavors to the real naughty ones, that make you feel guilty even looking at them!
10. THURSDAY TAPAS NIGHT IN VEGUETTA
This one is especially for foodies. 
Thursday tapas is a weekly event happening in the old town of Las Palmas – Vegueta. It's cheap, delicious and fun! All the bars offer different tapas and beer/wine for coins in exchange! Some of them also make delicious mojitos! 
Go in the early hours, like 7PM-8PM, as the place tends to get packed. Everyone wants to stuff their bellies! Everyone gets out on the streets, there are street musicians, students, locals, backpackers and really, all kinds of people. 
Normally hostels in LPGC organise a get together with all the guests and they go out for tapas. Go with your hostel group and get to know them. If you're not staying in a hostel, go by yourself and mingle with the groups. Canary people and true backpackers are always very social and up for a chat.
Every time we went there, we stayed until the police chased us away and then later hit the nearby clubs, but that is of course optional.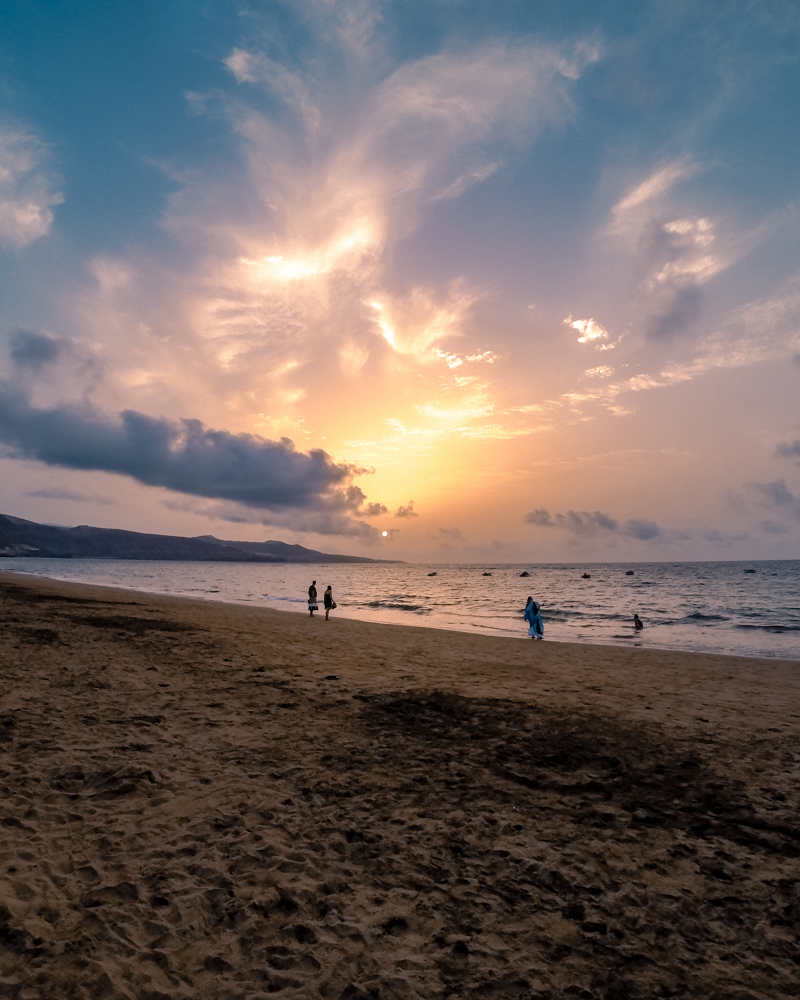 There is plenty of local tapas bars and small restaurants where you can ease your hunger with delicious traditional Spanish and Canarian dishes. 
Canary Islands are very budget friendly when it comes to food and drinks, so unless you're on a super tight budget, I guarantee you'll be able to treat yourself at least a couple of times a week. Try as many things on the menu as you can. My personal favourites are papas arrugadas con mojo, queso asado and the classic jamon serrano.
The beach is full of opportunities for surf or yoga enthusiast. Not to mention that most of the hostels offer their own classes/ activities, and if not, then they'd collaborate with local schools. 
Yoga has plenty of variations, you can try beach yoga, surf yoga, hiking yoga, and even slack-line yoga for mega pro's. Surfers are all over the place, and if you don't own your own equipment, you can rent it from shops nearby the coastline, or borrow it from your hostel.
Canarian people together with their backpackers are crazy about those sports. That's why it's full of eye candy on the beach. Oh, I miss that place so much!
13. PLAY SPORTS ON THE BEACH
There are dozens of people loving their run on the paseo. If running is not really your thing (for sure it's not mine) you have plenty of other options.
You'll see others playing volleyball, football, paddle tennis, ultimate frisbee or even sometimes rugby on the beach. Don't be shy, just ask if you can join them. Grab a kite if you want. 
If you prefer water sports you can always swim, sail, windsurf, classic surf and bodyboard.
It's difficult to give you advice here, because everyone has different styles. You might enjoy noisy clubs, dance parties, karaoke nights or just playing some pool with your friends and good booze around.
However, places I can recommend from my own and my ex-housemate (trusted party-animal) experiences are: Pequena Habana, Shaque, Paper Club, Why Not, etc. Tested and stamped.
15. AFTER-PARTY ON THE BEACH
My favourite type of nightlife!
Pretty self-explanatory. Grab some blankets and booze and go for it. Midnight jam sessions and a swim under the stars are always refreshing. Getting butt-naked and dancing drunk are optional. 
EXTRA TIP: Beware of unexpected waves. Three of our phones fell victims of the sea (together with other things that made fish think they can walk).
Most of you will love this one (the judgy ones are free to skip). 
I won't get into legal issues, but weed in Canarias (and Spain in general) is kind of tolerated. There are plenty of associations where you can not only buy but also stay and chill. Some of them are really cozy, with couches, books, board games, PS, etc. You can easily spend an entire afternoon inside, especially on a rainy day. 
Most of them have a few different strains available. A gram would normally cost you between 6-8€, depending on the sort. Sometimes you can find oils, cookies, bongs and pipes available.
Not all of them will accept foreigners, but don't get discouraged if it doesn't work on the first try.
There is a lovely organsation called "Fly Canarias" which offers tandem paragliding and courses in different parts of the island.
You can go on a tandem flight with professional guide, including equipment, photo and video material for only €60! Best deal you can find around. Their courses start at €110 a day.
The flights in Las Palmas begin from a higher point above the Auditorium and offer a spectacular view over Las Canteras and Las Palmas.
Imagine ALL the water sports lovers. Now imagine that Las Palmas is surrounded by the open ocean on three sides. Combine those two and there's your next activity. If you already are a fan yourself, you've got a perfect opportunity to become better and meet like-minded people. If you have never tried water sports before, now is your chance! 
18. VISIT THE JARDIN CANARIO (FREE)
Make sure to leave a couple of your precious hours to visit this massive and FREE (backpackers' favourite word) botanic garden. It's supposed to be the largest in whole of Spain from what I've heard! It's outside the city, in a suburb area called Tafira. Hitchhike or take a bus to get there. You will go through through a large maze to explore the Canarian exotic flora. The garden hosts and protects over 600 different species, some of which are endangered. 
Opening hours: Mon-Sun 9AM-6PM
EXTRA TIP: The garden is huge. Make a picture of the map at the entrance to make sure you're not walking in circles.
There are plenty of calisthenics parks, basketball courts and football fields around Las Palmas. You can also find a lot of small street fitness places, with a few bars and some other equipment. Some of the bigger calisthenics parks inside the city include Parque Romano and Carretera del Rincon. 
If you are an art and history lover, definitely visit the museums in Las Palmas. Just like you would in any other city.
Entrance fees are super affordable and many of the museums offer free entrance on certain days of the week, month or year.
Casa de Colon (Where Christopher Columbus and his crew stayed)
Free on
1st weekend of the month
April 18
May 18
May 30
June 24
October 12
Entrance fee: €4
Opening hours: Mon-Sat 10AM-6PM; Sun (and holidays) 10AM-3PM
Click here to visit their website
CAAM (Modern Art gallery in Vegueta)
Museo Canario (Historical museum)
Museo Elder (Science museum)