Exploring the Black Sea shores with Sea Kayaking Bulgaria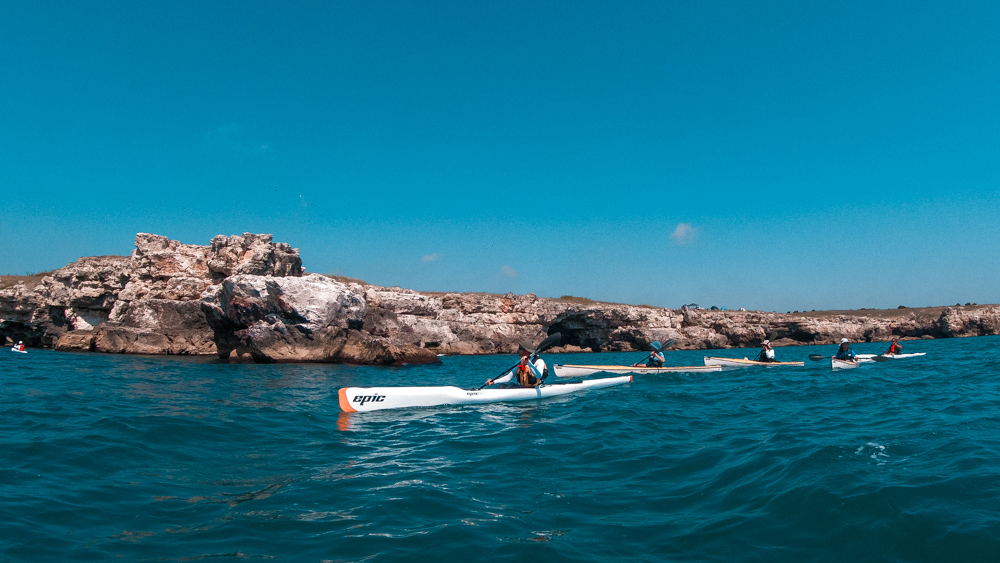 Do you love the seaside but having a casual swim or a sunbath is just too uneventful for you? Does your spirit crave new adventures and heavenly views? Galin from Sea Kayaking Bulgaria might offer you just what you need right at the Black Sea's coast. He offers guided sea kayaking and surf ski paddling tours for people of all skill levels. 
How did I find out about Sea Kayaking Bulgaria?
I found out about Sea Kayaking Bulgaria somehow randomly. My friends and I traditionally greeted July Morning's sunrise camping for an entire week about five steps away from the Black Sea. Every year I see someone new at this camp and thank God I do because that's how I got to write this post.
Long story short, one of the people I met came to the table and asked if anyone wanted to join him and two other guys for a kayaking trip the next day. So without overthinking and rather instinctively, a loud "Yes" came out of my mouth. Thinking about it now, it's not that surprising since I always crave a little more adventure than I get to experience. 
Anyway, all I knew at that point was that I had to set up my alarm for 06:30 AM, which I did, but it wasn't really necessary since the sun started turning my tent into a free sauna already at 06:00 AM. I didn't know where I was going, who I was going with or if I'd be able to do it on my own. Only before I went to sleep the night before, the thought of waves crashing against cliffs and me being in a small boat in the middle hit me as hard as a few shots of cheap tequila.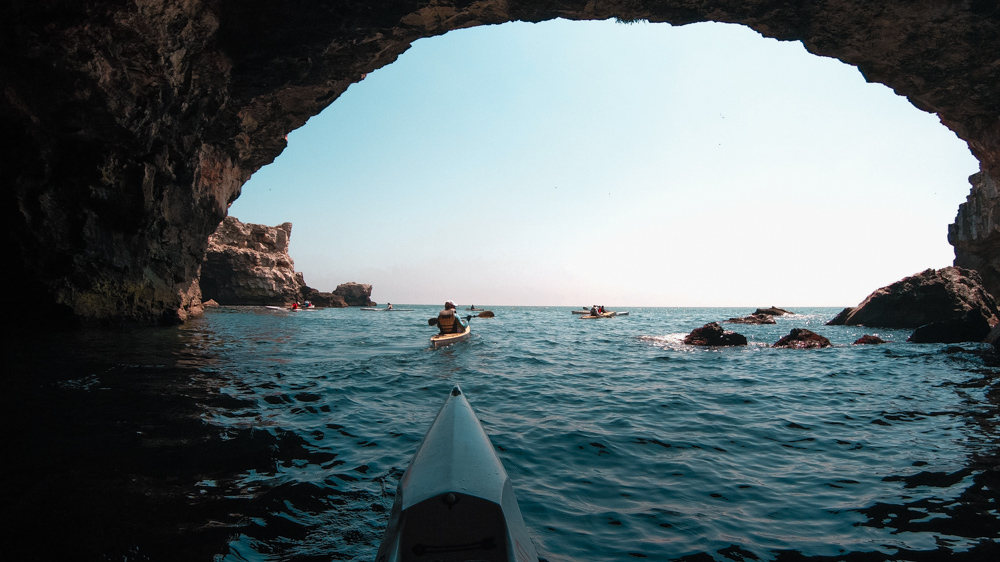 Guided sea kayaking and surf ski paddling tours
The guided tours that Galin organizes take place in the northeast part of Bulgaria. Feel free to use the map of Sea Kayaking Bulgaria routes I created to visualize the courses which I'm going to describe in detail below.
Sea Kayaking Bulgaria offers four main routes, and the execution of each tour heavily depends on the weather conditions and the wind's direction. The instructor is experienced with the pretentious moods of the Black Sea and regularly checks different weather forecasts to choose the best route for the particular day. That's why if you want to take a specific course, I highly recommend that you don't fixate on it because plans can change last minute.
More than four different routes
Route 1: Zelenka - Kaliakra - Bolata
One of the most common routes is Zelenka beach – cape Kaliakra (and back), which is preferable with northeast winds and depends on the height and direction of the waves. You can also access cape Kaliakra from Bolata beach and return back. When the weather is merciful, the tour can begin from Bolata, go through the cape and end at Zelenka or the other way around.
Length: Depends on the route taken
Duration: Depends on the route taken
Route 2: Kavarna - Dalboka - Kavarna
Another possible route starts from the famous Kavarna City Beach, goes to Dalboka (Deep) mussel farm and ends back at the starting point. Typically, people take this route around sunset because the sea is calmer with smaller waves and easily accessible. The route is stunning, and taking it around sunset means you'll skip the heat and won't get sunburnt (win-win).
Length: 6 km
Duration: 2 h
Route 3: Kavarna - Bendida - Kavarna
Another tour, but a less popular one because of unfavourable weather conditions, is Kavarna – Bendida beach (Thracian Cliffs Golf) – Kavarna. If you're lucky, you could catch a flying golf ball doing this route. Route 3 is a bit longer than the ones mentioned before that.
Length: 10 km
Duration: 3 h
Route 4: Tyulenovo - Bolata
Tyulenovo – Bolata is an incredibly picturesque route, and as such, it is one of the most difficult to get through. It's one of the longest and most exhausting and goes through Kamen Bryag, Yaylata and Rusalka beach. Usually, the waves and weather are extremely unfavourable to take this route, thus making it rare.
Length: 20 km
Duration: 6-7 h
Other available routes, again, depending on the weather forecast, are Bolata beach – Rusalka beach and going down the current from Zelenka beach – Kavarna.
If you are inexperienced with kayaking, you can expect a sea of emotions at first (pun intended), most of which are good. They range from awe and love to fear and anxiety. Any wave feels a thousand times larger than it would if you were just swimming. But in all cases, that feeling begins to fade while you get more comfortable with the kayak and the paddle. Maybe that's just me, but my family taught me to respect the sea, mountains and forests and not to mess with them. 
The guide's name is Galin, and he was born and raised in the area where the tours take place. His love for the sea brought him to his 10+ years of experience in kayaking and over 8 years as a kayaking tour guide.
Galin is one of those people that you immediately trust when you see. He is knowledgeable and makes sure everyone feels good. After everyone arrives at the meeting spot, he will start with basic instructions and kayaking techniques. You are always free to ask any questions you might have, and he'll be happy to answer them. And don't worry, his English is great.
Everyone will be assigned a single-seat kayak as the six surfski (white) kayaks are suitable for more experienced people, while the sea (yellow) kayaks are best for people who are jumping on board for the first or second time. Galin will give you a life jacket, a paddle and a dry bag to put your phone or something else inside. 
After he gives you instructions, he will start putting the kayaks in the water one by one, help you get in and watch you paddle for a while to see if your technique is good enough. He will direct you towards the route, so you don't hit any underwater rocks and then continue with the rest of the group. After everyone's inside the water, the group starts paddling together. 
Contact Sea Kayaking and start exploring the Bulgarian Black Sea shores
If you are interested in a new adventure, you can contact Galin through his website or AirBnB account and start exploring the Bulgarian Black Sea shores. Keep in mind that booking through AirBnB always has higher costs due to their commission, while contacting someone directly typically turns out to be cheaper.
As stated on the official website, the prices are as follows:
1-hour training tour – 20 euro
2-hour short tour – 30 euro
Half-day tour – 40 euro
Full-day tour – 60 euro
A 10% discount is applied if you manage to gather a group of 5 people or if you take a tour more than once.